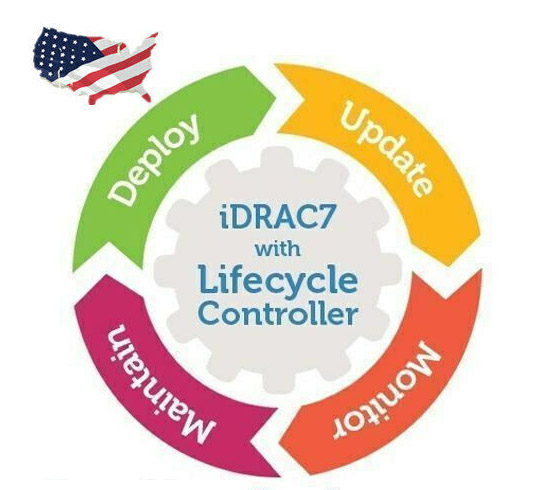 iDRAC 7 features
In the less server management environment, iDRAC 7 can achieve one-to-one server remote management and monitoring. Server hardware is usually placed in the data center and not easily accessible. Using iDRAC can be very easy to gain remote access to the server, configuration, deployment, monitoring, and subsequent maintenance.
Using a browser can directly access the IP of iDRAC, straightforward to achieve remote hardware, power management, and monitoring
Use remote console redirection and remote media and other functions, the server's mouse and keyboard, optical drives, and other media redirection to the administrator's management workstation, you can realize the remote operation of the server
When specific events occur, you can send an email, SNMP/IPMI alerts, or perform particular actions.
The server comes with iDRAC without a remote console, power management, or the ability to use a separate NIC (the first NIC of the server must be shared). You only need to add a License, no additional hardware to upgrade to the iDRAC Enterprise version; the iDRAC 7 Express version can be upgraded to the enterprise version through the software License license.
This item is for an iDRAC7 Enterprise license ONLY. iDRAC7 port card is NOT included.
Commitment: Provide services within 24 hours. (After you provide SN code and mailbox). Refund 50% over 24 hours.
NOTES:

1. No refund is accepted. Once ordering a license, no refund are going to be received. I guarantee that the licenses are from dell.100% .

2. you would like to form sure that your server has hardware support. --Remote Card

3. I sent you an XML file. In most cases, you can use it directly. But in minimal cases, you should convert it to TXT format to use.

4. Sn code is that the key. If you purchase quite one, make certain to concentrate to binding errors.

5. After the upload is successful. You would like to Re-login. It is a must.

6. If you need instructions. Please read the installation instructions I sent you. Otherwise, you can search for a tutorial on Google or on DELL's official website.

7. This License is often for an iDRAC Enterprise License only (no hardware included). This license is valid for the lifetime of the merchandise. It doesn't expire and never needed to be renewed. It'll be sure to just one service tag (one server) at a time. Once the license key's generated and sure to your system/service tag, the product/service is non-refundable.

8.Any questions, please email me. I will be able to serve you wholeheartedly.
This license is compatible with Dell 12th generation of PowerEdge, PowerVault Server, and Dell Compellent systems such as the following:
PowerEdge R220, R320, R420, R520, R620, R720, R720xd, R820, R920
PowerEdge T320, T420, T520, T620
PowerEdge M420, M520, M620
PowerVault DX6104, NX3200 Series
Please check Dell iDRAC7 with Lifecycle Controller - Feature Guide
To purchase this product, please send an email inquiry to:
---
---
>> some good websites : oil wellhead tungsten carbide rings gold 4K Wallpapers Phone/Gaming/iPhone/Android/Mac/iPad